35 Kitchen Designs Ideas That You Will Love
As the kitchen can be the most valuable part of the home, it's unsurprising that many pay home planners and designers to make their kitchen multi-functional and beautiful. From integrating bold colours and glass hoods to going full out with ingredient libraries, vintage touches or minimalist design, there are many options from which to choose. Therefore, if you're unsure which one is best for you, we present the top 35 to get your creative juices flowing.
1) Rustic Kitchens
If you're looking for a kitchen that emanates nature and has that 19th-century feel, then a rustic kitchen is the way to go. Complete with white-washed shelves, fixtures and ceiling features, we love the history this kitchen brings to its home.
2) Ultra-Modern Kitchen
If you're a fan of modernism, then contrasting colours, as well as stylish cabinets, kitchenware and lighting is the way forward. Glass hoods are always a great feature, chic-ing up your cooking no end.
3) Add An Ingredient Library
If you love having the freshest ingredients for every meal you make, then keeping them close to the action is always handy. Why not include an ingredients library in your kitchen, ensuring you can reach everything you need and also see when you're running out.
4) Yellow Panels
A great contrast to wooden or white fittings, yellow panels on your cabinets or other surfaces adds an air of Spring to your kitchen.
5) Luxury Kitchen
Marble counters, glass cabinets and a huge island with plenty of space for entertaining your guests can make any kitchen look luxurious and fabulous. Why not add chandeliers for that finishing touch.
6) Are You Red-y?
Whether you paint your walls or cabinets red, it makes your interior look mesmerising, drawing the eye to this fantastic colour.
7) Bold Colours
Adding bold colours like green, blue, purple or orange will make your kitchen look more spacious. 
8) Glass And Steel Hood
For that touch of magic, a steel and glass hood can make all of the difference
9) Minimalist Design
If you have a small kitchen, longer cabinets allow you to store more items within limited space.
10) LED Lights
Adding LED lights underneath the cabinets and shelves adds a touch of charm and ensures your whole kitchen is well lit. Glow in the dark lights are also available.
11) Don't Pan-ic
Why not hang all your pans on wooden shelves on the wall for that ease, efficiency and rustic look.
12) Vintage Farmhouse Look
You can have a vintage kitchen by painting your walls in white and brown and placing a few lamps here and there. Including an old stove completes the look.
13) Grey and White
If you like the sophistication a white kitchen brings but feel it needs something else, combining it with light grey can liven up the walls and cabinets.
14) Wooden And Wonderful
Oak wood fixtures not only compliment all types of counter surfaces well, but are durable, stylish and customisable.
15) That's Mint
Paint the kitchen cabinets mint to give it a more soothing and refreshing look.
16) Black And White
For the ultimate in contrasting coolness, paint the kitchen walls black and cabinets white.
17) Goldware
If you'd like to mix clean-cut design with a touch of luxury, add goldware to your cabinets for stand-out style
18) Blue And Rustic
Paint the kitchen cabinets in this fabulous rustic blue shade to put a twist on the vintage look.
19) Black Marble Countertops
These stunning black marble countertops add an attractive finish to white counters. 
20) White Gloss
A trend that has become increasingly popular over the years are gloss cabinets, as they reflect light well and are much easier to clean.
21) Antique Design
Engraving your cabinets with unusual designs and throwing in a few antique lamps and hardware can give it a unique look.
22) Stainless Steel
From the hood to the sink, stainless steel hardware adds a bold look to any kitchen.
23) Industrial-Type Kitchen
Dark tones, metallic cabinets and visible piping create that industrial-feel that is both functional and eye-catching.
24) The Tone In Stone
Get back to nature by painting your wooden cabinets, island and hood in stone-tones, sure to grab attention.
25) Brass Hardware
Brass is the metal of the season, so adding brass handles to cabinets of any colour ensure your kitchen is on trend.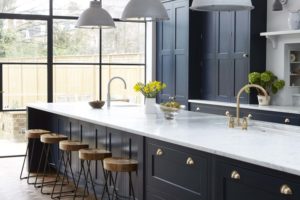 26) Make It Black
Adding silver handles to an otherwise black kitchen really completes this look, adding an element of mystery to this beautiful design.
27) Pop And Pretty
Kids will love this retro colourful kitchen, complete with ice-cream shades, funky artwork and comfy chair cushions.
28) Marvellously Marble
A marble surface makes all of the difference to an otherwise plain kitchen, due to its variations in markings and colours.
29) Mix It Up
For the eclectic among you, integrate marble counters, patterned walls, sleek cabinets and unusual lighting to showcase your wonderful personality.
30) A Matte Finish
If you're not a fan of the flashiness of gloss, then a matte finish is the way to go.
31) Sleek Glass
Glass hoods, sinks, counters and cabinets really do look fantastic, adding a unique design that shows off the ins and outs of your kitchen.
32) Sculptural Design
For the arty among you, adding sculptural elements such as curved hoods and chairs can really make a kitchen pop.
33) Pendant Lighting
Hanging, or pendant lighting adds charm to any kitchen and are available in 1000's of lengths, designs and colours.
34) Grey And Pendant Lighting
Make your kitchen exquisite with sparkling pendant lighting and dark grey cabinets that match the walls and fittings.
35) Open Plan Kitchen
Integrating your lounge or dining room with your kitchen can make it feel bigger, airy and brighter, allowing more people into the space.
There's certainly a lot to choose from!